Careers
At ON Semiconductor, our people power the future
ON Semiconductor is committed to providing career advancement and development opportunities. Our employees are crucial to the success of our company - it is important for us to provide global programs that recognize, develop and enable our employees to grow. Our career development philosophy is that employees own their careers by leveraging the programs, tools and resources available to them. Employees are encouraged to partner with their manager to craft a personal development plan that aligns with their career goals.
View local information:
We offer:
Global Reach, Winning Through Operational Excellence
Performance-based Mindset
Challenging Opportunities
Great People, Great Place
Filter Jobs:
Why Choose ON Semiconductor?
About the ON Semiconductor Culture
We are a company that is dedicated to becoming the premier supplier of performance power solutions worldwide. We value quality, efficiency and superior customer service.

Commitment to Diversity
Around the world ON Semiconductor's employees reflect the diverse richness of many cultures. Our global community of employees is based in 16 locations around the world with major facilities in the U.S., Belgium, Canada, France, Ireland, Slovak Republic, Czech Republic, Japan, China, Malaysia and the Philippines.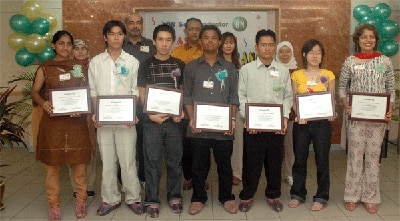 As a company we celebrate differences and promote an inclusive environment by valuing the contributions of all employees. Our knowledge of diversity goes beyond race, ethnicity and gender. Diversity is about understanding and embracing the unique differences, talents and perspectives of employees, customers and suppliers. We look to promote an inclusive environment and support the diversity of thinking that results from the differences in experiences, knowledge, culture, customs and background of all employees. Diversity of thinking will help us continue to encourage the creativity and innovation necessary for ON Semiconductor to maintain a competitive advantage in the global marketplace.
We believe that a commitment to diversity is a commitment to all employees as well as a winning business strategy. For us diversity means that employees are empowered to make decisions, co-workers treat each other with dignity and respect, and all people we come into contact with are valued. At ON Semiconductor our diversity is our strength.
We believe that our company's vision, values and culture afford opportunities for everyone to make a difference in building a successful global business. We are constantly striving towards a more diverse workplace which benefits
ON Semiconductor and enables us to more successfully meet the needs of all our stakeholders--customers, suppliers, employees and shareholders worldwide.
Diversity and Inclusion

"Cultivate a culture where diversity and inclusion is embedded in everything we do."
As a company, we celebrate differences and promote an inclusive environment by valuing the contributions of all employees. Our knowledge of diversity goes beyond race, ethnicity and gender. Diversity is about understanding and embracing the unique differences, talents and perspectives of employees, customers and suppliers. We promote an inclusive environment and support the diversity of thinking that results from the differences in experiences, knowledge, culture, customs and background of all employees. Diversity of thinking helps us continue to encourage the creativity and innovation necessary for ON Semiconductor to maintain a competitive advantage in the global marketplace.


Visit us at Diversity Conferences
ON Semiconductor attends multiple diversity conferences throughout the year including (but not limited to) National Society of Black Engineers, Society of Hispanic Professional Engineers, and Society of Women's Engineers.

Affinity Network Groups
Women's Leadership
ON Semiconductor values diversity which ties into our core values of respect, integrity and initiative. The unique gifts that each of us brings to work each day are a key contributor to ON Semiconductor's success. In the spirit of employee development and in combination with diversity recognition, our company's leadership team has been expanding our Women's Leadership Initiative since its inception in 2014. This initiative is open to all ON Semiconductor employees! Female and male employees can both benefit from exploring and addressing some of the unique challenges that women face.
STEM Up
Our mission and purpose is to develop and retain a diverse workforce which will positively affect our company's outcome with regard to innovation and performance. Our programs will be focused on retaining employees at ON Semiconductor and developing new talent in the local area for the under-represented population. Our key focus areas are recruitment, retention, and service leadership.
Cultivate
Our mission and purpose is to unite a group of diverse generations who are committed to engaging in the workforce and enhancing our collaborative company culture. We are committed to understanding all generations in the workplace and connecting ON Semiconductor with the developing workforce community.

Equal Employment Opportunity Employer
ON Semiconductor is an Equal Employment Opportunity Employer and prohibits discrimination on the basis of age, race, color, religion, gender, sexual orientation, national origin, citizenship, protected veteran status, disability status, or any other federal, state or local protected classes. ON is committed to providing equal employment opportunity to qualified individuals, regardless of protect class status.
University Relations
ON Semiconductor is seeking fast-paced, performance-driven students to bring knowledge to our respected and innovative company.
Through our University Relations program, we hire approximately 200+ interns across the United States. At ON Semiconductor you can expect to receive a hands-on and interactive training in the major you are pursuing to explore within this field. We pride ourselves on the challenges we give to students and to the wisdom they gain from working with us.
As a global provider of performance power solutions, ON Semiconductor has changed the lives of people around the world. ON Semiconductor products, both big and small, are being used everywhere you look. From cell phones, cars, or computers, our products play a big role in operating today's technology. Innovation is a priority here at ON Semiconductor and we are actively looking for students and college graduates hire. We would love your help in providing a new outlook of the possible technological landscape of tomorrow.
Take a leap into your future with ON Semiconductor!


Visit ON Semiconductor at these Universities!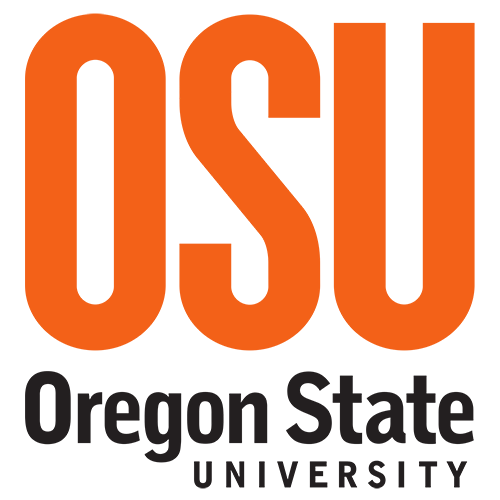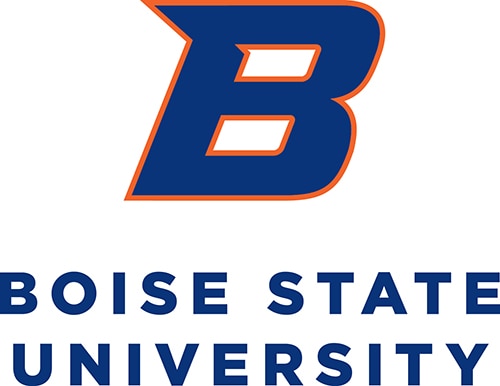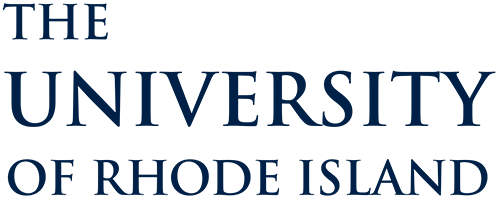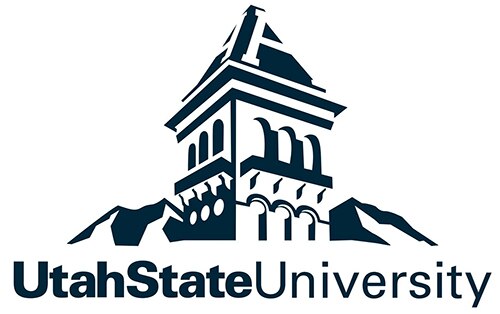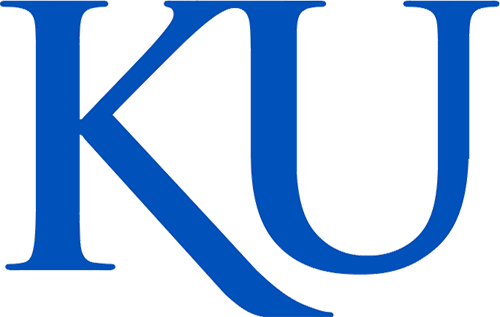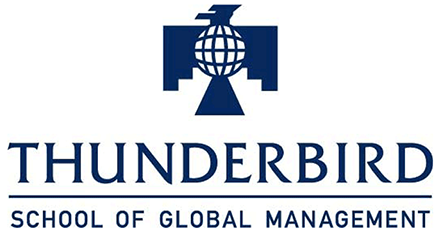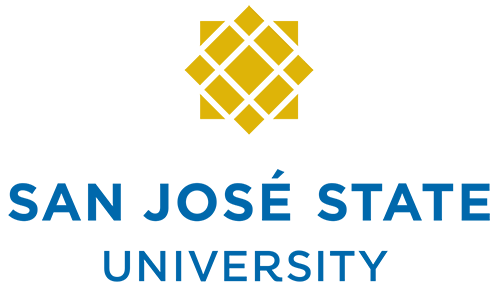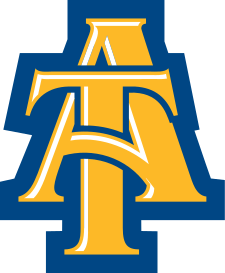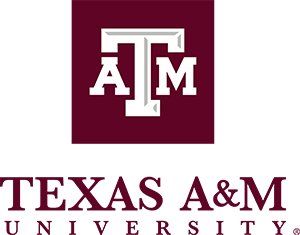 Am I an Intern or New College Graduate?
Intern: a student actively enrolled in at an accredited university pursuing a degree program related to the organizational need.
New College Graduate (NCG): entry level candidate that has graduated with their most recent degree within two years and have up to two years of industry experience.


Opportunities for interns at ON Semiconductor:
Training and Development
Networking Events
End of Term Presentations
Opportunity for long term internships
Flexibility around school schedule
Full time employment
Intern Benefits
ON Semiconductor provides a variety of benefits to student or co-op interns through their journey with us. Working in this program gives you a competitive edge towards further employment and career opportunities. There are a multitude of potential networking possibilities that we make available during an individual's time here. Gaining hands-on experience at ON Semiconductor can offer valuable insight for future academic or career decisions at this crucial period in a student's life.
Benefits available to those driven students selected:
Competitive pay
Paid company holidays
Medical benefits
Sick time off
Relocation
Employee Assistance Program
Employee Stock Purchase Program
Visa sponsorship
Global Locations
Worldwide, ON Semiconductor employs more than 34,000 people, with 1,000 working in the U.S. Headquarters in Phoenix, Arizona, USA. The company owns and operates design centers, solution engineering centers, and manufacturing facilities in North America, Europe, and Asia.
Welcome to ON Semiconductor
Let me be among the first to welcome you to ON Semiconductor. We believe one person can make a difference and that people, like you, power the future of our company. The employees of ON Semiconductor form a global team that is constantly collaborating on power efficient solutions, community outreach programs and touching the lives of people around the world. Part of our recipe for success can be found in our core values of respect, integrity and initiative. Working here means you have a voice and your ideas will be heard. You can be recognized for excellence through our employee recognition program. Employees are rewarded based on their performance and contributions to the workplace. With more than 34,000 employees working together, our vision of being the premier supplier of performance power solutions worldwide is well within our reach. I look forward to having you as a part of our team and enjoying continued success for many years to come.

Sincerely,

Keith Jackson
President and CEO

At ON Semiconductor, our people power the future.
We offer...
Global Reach, Winning Through Operational Excellence
As a global corporation, we are a recognized leader in operational excellence. We deliver superior customer service and provide innovative solutions. We get things done.
Performance-based Mindset
Our employees are rewarded based on performance and impact. Through our employee recognition program, you can be recognized for excellence.
Challenging Opportunities
We have a broad technology portfolio which we use to create high performance products and apply them in today's power management solutions. We offer growth and development for those who have the passion to seek challenges and create opportunities for success in these areas.
Great People, Great Place
We value Respect, Integrity and Initiative in the spirit of collaboration and teamwork. Working here, you have a voice and your ideas are heard. Genuine people, enjoyable workplace.
Regional Benefit Summaries
Test
Careers
Bij ON Semiconductor zijn werknemers de toekomst van het bedrijf!
ON Semiconductor legt zich toe op het creëren van kansen voor loopbaanvooruitgang en –ontwikkeling. Onze medewerkers zijn van cruciaal belang voor het succes van onze organisatie – het is belangrijk voor ons om globale programma's aan te bieden die onze medewerkers erkennen en ontwikkelen en bovendien ook hun groei bevorderen. Onze filosofie achter loopbaanontwikkeling is dat medewerkers hun eigen loopbaan in handen nemen aan de hand van de ter beschikking gestelde programa's, tools en middelen. Medewerkers worden aangemoedigd om in een partnerschap samen te werken met hun manager en zo een persoonlijk ontwikkelingsplan uit te werken dat overeenstemt met hun carrièredoelen.
View local information:
Wij bieden aan:
Lid van een winning team door operationele excellentie
Prestatiegerichte mindset
Constante uitdagingen en opportuniteiten
Great People, Great Place
ON Semiconductor Wereldwijd
ON Semiconductor is een toonaangevende leverancier van hoogwaardige silicium oplossingen voor energie-efficiënte elektronica. Concreet staan we in voor het ontwerpen en produceren van microchips die in verschillende applicaties kunnen toegepast worden. Enerzijds hebben we een brede portfolio van "standaardproducten" zoals chips voor vermogen- en signaalbeheer, logics en discretes. Anderzijds werken we nauw samen met de klant om de chips op maat te ontwerpen, zodat die op een efficiënte manier zijn ontwerpen kan realiseren binnen verschillende sectoren.
We zijn actief in volgende markten:
Automotive
Computing
Consumer
Communication
Industrial, medical, military & aerospace
ON Semiconductor is een Amerikaanse speler die wereldwijd actief is. De hoofdzetel is gelegen in Phoenix, Arizona. In totaal werken er ongeveer 34.000 medewerkers mee aan het succes van ON Semiconductor, verspreid over USA, Europa en Azië. Klik op deze link om de locaties te bekijken. Onze kernwaarden zijn respect, integriteit en initiatief. Hier werken betekent dat je een actieve bijdrage kunt leveren en dat er naar jouw ideeën geluisterd wordt.
ON Semiconductor België
In België zijn er twee vestigingen van ON Semiconductor; Oudenaarde en Mechelen. Oudenaarde is de grootste site met gemiddeld 700 medewerkers. Naast productie, bevinden zich hier ook de afdelingen gericht op onderzoek en ontwikkeling, design, test, kwaliteit, aankoop, boekhouding, IT, human resources,... Een voorbeeld van waar onze chips in geïntegreerd zijn, zijn bijvoorbeeld parkeersensoren, navigatie en verlichting voor de automotive markt.
In de site Mechelen werken zo'n 100 collega's die focussen op ontwikkeling en design voor de beeldsensoren- en automotive markt. Beeldsensoren worden bijvoorbeeld toegepast in medische beeldvorming, flitspalen, cinematografie, ruimte-toepassingen en dergelijke.
Productieproces
Het fabricageproces van wafers (halffabrikaat) is een essentieel onderdeel van het maken van geïntegreerde circuits en componenten. Deze zijn alomtegenwoordig in de elektronica van de toestellen die ons elke dag omringen. De ontwikkeling van een chip start bij de R&D afdeling. Zij ontwerpen de technologieën die het mogelijk maken om verschillende componenten (transistoren, diodes, resistoren,...) samen te voegen in één chip. De elektronica- ingenieurs ontwerpen het circuit zodanig dat de gevraagde functies voor de applicatie gedefinieerd kunnen worden. Deze circuitspecificaties worden via software overgebracht naar circuit lay-out programma's, die de lagen vastleggen die in het productieproces aangewend moeten worden.
De wafers worden geproduceerd in Fabs waarin de lucht constant gezuiverd wordt om kleine partikels te verwijderen. Zo voorkomen we dat er partikels terecht komen op de wafers en zo defecten veroorzaken. Om diezelfde reden, dragen alle medewerkers in de Fab een cleanroompak om de wafers te beschermen tegen haar en stof.
Het productieproces start met een blanke siliciumschijf waarna de elektronische circuits stapsgewijs opgebouwd worden. Dit gebeurt door een opeenvolging van honderden chemische, fysische en lithografische processen. Het totale proces duurt een aantal weken. De kwaliteit wordt geborgd door een integrale kwaliteitsaanpak. Na de productie in de Fab, worden de wafers elektrisch getest. Als ze voldoen aan de specificaties, worden ze voor assemblage en functionele testen doorgestuurd. In onze assembly-vestigingen in Azië worden de wafers verzaagd en verpakt volgens de specificaties van de klant. Na een finale controle worden de chips verstuurd naar onze klanten.
ON Semiconductor heeft in Oudenaarde een Fab voor de productie van wafers met een diameter van 150 mm.
Werken bij ON Semiconductor
Hier vind je meer informatie terug over drie van onze grote doelgroepen: operatoren, techniekers en ingenieurs. Gezien de verscheidenheid aan departementen in onze Belgische vestigingen, werken er uiteraard diverse profielen op onze ondersteunende diensten. Als jouw profiel niet aansluit bij één van deze doelgroepen, is het aangewezen om de openstaande vacatures te bekijken op onze homepage.
Testimonial
Operator
Wafer Fab Operator
Ontmoet Ine. Ine werkt inmiddels 5 jaar bij ON Semiconductor als
Wafer Fab Operator. Ze vertelt je graag over haar job!

Technieker
Manufacturing Equipment Technician
Ontmoet Jochen, hij werkt 22 jaar bij ON Semiconductor
en vertelt je graag over zijn job.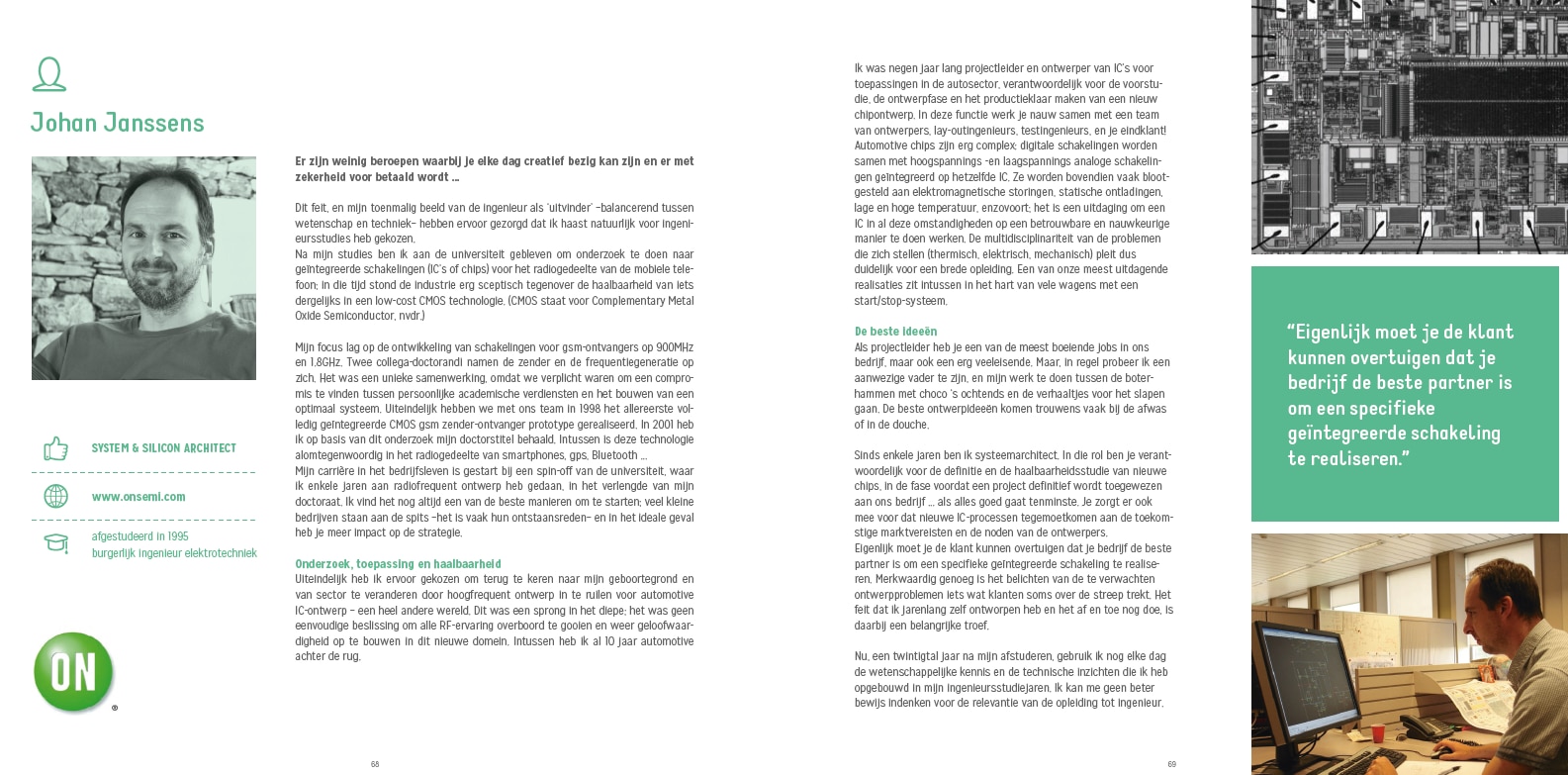 Ingenieurs
Uit De burgerlijk ingenieur
(-architect) in actie – zie ook
www.deburgerlijkingenieurinactie.be