Low Power Sensor Technology for the Internet of Things (IoT)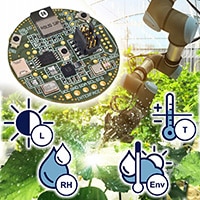 by
Pavan Mulabagal
- 02-13-2019


The combination of power optimized wireless and sensor technology can enable a variety of new applications within IoT. The RSL10 Sensor Development Kit enables this technology with it's multi-sensor, Bluetooth® Low Energy platform featuring the RSL10 SIP (System-in-Package), the industry's lowest power Bluetooth® Low Energy radio. The board features over ten sensors including ambient light, inertial and environmental sensors. The combination of cutting-edge sensor technology and the ultra-low-power Bluetooth® Low Energy radio results in a device that enables development of sensor edge-nodes with a long battery life for various applications. With this platform, we wanted to provide developers and design engineers a compact form-factor, comprehensive and energy efficient solution to accelerate development time and effort in creating node-to-cloud IoT solutions.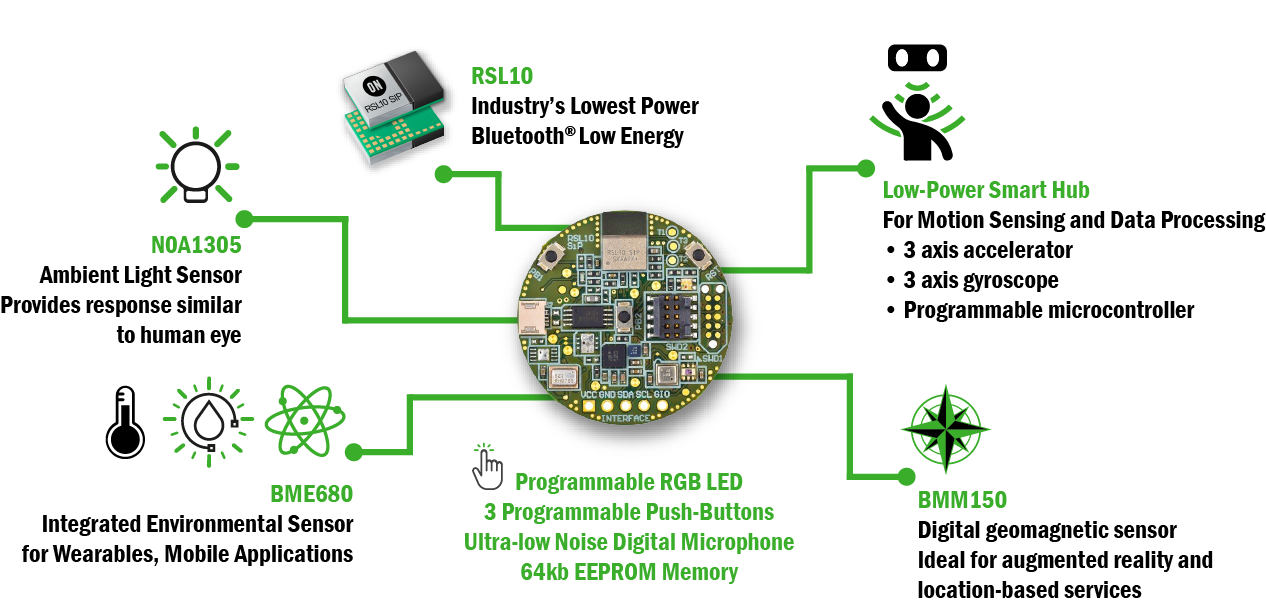 One of the challenges IoT designers face is piecing together all the needed firmware, software and mobile and cloud related functionality when developing their applications. By offering a comprehensive solution including a software development environment, a mobile app that can connect to the cloud, the RSL10 Sensor Development Kit makes it easy to start developing for IoT. All of the example code and associated documentation is packaged and made available as a CMSIS pack. The mobile application coming soon to Android™, IOS® , lets you read the multitude of sensors attached to this board and lets you send sensor data to a cloud of your choice via MQTT. While a native GUI is provided to support Amazon®, Azure™ and IBM® clouds, the user may add any MQTT broker using the custom broker setting.
Applications such as industrial wearables for worker safety or asset monitoring can be rapidly built, tested and deployed using this solution. For instance, the 3-axis accelerometer and built in activity recognition can be used to detect falls or prolonged inactivity. The environmental sensors help monitor the ambient conditions and the solution can be setup to trigger alarms when thresholds are breached. The RSL10 Sensor Development Kit enables monitoring and logging of ambient conditions such as shock, temperature and humidity that an asset or a package goes through will be invaluable in determining the status of the asset.
What novel applications and use cases will you build with the RSL10 Sensor Development Kit featuring the industry's lowest power Bluetooth 5 SoC and cutting-edge sensors?
For detailed design files, software libraries, mobile application and other documentation, click here.

reaction successful
Comment
Smith Henrry
2020-03-18 00:00

Comment rating:

0
Thank you for sharing
rudraveni
2019-07-10 00:00

Comment rating:

0
It is very good and very informative. There is a useful information in it.Thanks for posting... IoT Training In Hyderabad
sfjbstraining
2019-02-25 00:00

Comment rating:

0
Great Information. Thank You Author, for sharing your valuable information about iot with us. People who are reading this blog can continue your knowledge which you gained with us and know how to apply this practically along with our IoT Training in SFJ Business Solution.