Wide Band Gap ON Semiconductor Technology – Enabling Mega Trend Applications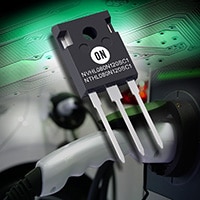 by
Brandon Becker
- 03-20-2019


Increasingly, the most important applications and current electronics sector mega trends demand high voltage, high frequency and high temperature performance beyond that achievable by regular silicon devices.
Wide Band Gap semiconductor technologies using materials such as Silicon Carbide (SiC), are emerging to bring significant enabling benefits and enhanced reliability to important high-growth end application areas such as automotive DC-DC and on-board charger applications for electric vehicles as well as solar and uninterruptible and server power supplies.
ON Semiconductor's SiC portfolio comprising diodes, drivers and MOSFETs, and what is developing into an overall ecosystem, has just been enhanced by the introduction of two new MOSFETs – the industrial grade NTHL080N120SC1 and AEC-Q101 automotive grade NVHL080N120SC1.
As is typical of Wide Band Gap SiC devices, the NTHL080N120SC1 and the NVHL080N120SC1 combine high power density with high efficiency operation. This can help significantly reduce operating costs and overall system size due to smaller device footprints. Typical Wide Band Gap semiconductor characteristics, and in particular the raised efficiency, mean less waste power directly leading to eased thermal management issues. This not only reduces bill of materials (BoM) costs, but also contributes further to the overall size and weight reduction of the product in question.
These characteristics are welcomed in applications such as cloud server centers where power requirements are huge and growing as centers expand to address the insatiable desire for data and cloud storage. Small amounts of power saved in multiple areas, and higher efficiencies can translate into energy savings that may equate to cost savings of hundreds of thousands of dollars as well as the avoidance of complex thermal management issues.
Such performance benefits are also prized in automotive uses where minimizing power consumption / maximizing efficiency and saving even a few grams can impact fuel efficiency, or in the case of electric vehicles, range.
For all applications, reduced electromagnetic interference (EMI) associated with SiC Wide Band Gap semiconductors is welcome, taking some unknowns out of the design process as well as ultimately enhancing system reliability.
For designer engineers getting to grips with developing solutions using relatively new, and therefore unfamiliar SiC semiconductor technology, resources such as device simulation tools, SPICE models and application information can prove essential in leading them through the design process and helping them complete designs that are optimized to meet challenges that are peculiar to high frequency, high power circuits.
ON Semiconductor's SiC devices, solutions and developing ecosystem will be on display at this year's APEC in Anaheim, CA, (Booth #611) from March 17 – 21.