Clinical/Point-Of-Care Applications
The rise of point-of-care technologies and devices has allowed for more testing and diagnosis close to the patient, resulting in increased effectiveness and success rates. Advancements in medical testing technologies (blood glucose, oxygen saturation, rapid strep, etc.), and minimally to non-invasive genomic diagnoses such as liquid biopsies, have presented patients with improved point-of-care diagnostics and faster access to treatment options.
Over the last several decades, ON Semiconductor has developed an extensive portfolio of intellectual property in medical applications both internally and through our partnerships with healthcare, imaging, and medical device manufacturers.
Our customers rely on our product longevity that supports their long product development and regulatory approval cycles as well as the entire product lifecycle that can span decades. We also meet the most stringent quality requirements through our world-class manufacturing facilities which offer ISO 13485 certification and FDA compliance.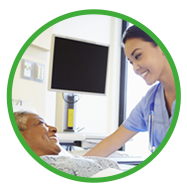 Examples of relevant ON Semiconductor technology in PoC applications
Medical Diagnostics:
High resolution, small pixel, monochrome image sensors for lens-less microscopy
Rolling and global shutter image sensors for IVD/POCT readers
Image sensors and image signal processors (ISP) for telemedicine devices
High resolution high performance image sensors for applications such as ophthalmology, skin care, dental scanning, and many others
Both CMOS and CCD solutions
Low Cost DNA Sequencing:
High resolution, small pixel image sensors for maximum density
State-of-the-art pixel to pixel isolation for excellent crosstalk performance