Manufacturing Scrap Reclaim Center
ON Semiconductor's manufacturing scrap reclamation operations are considered by refiners to be "Best in Class".
Our global reclaim objectives reflect our commitment to environmental sustainability and resource conversation while optimizing our network, protecting our intellectual property, and maximizing and recapturing profits.
Our take-back and recycle program provides our customers with an environmentally responsible solution for the return, recycling and disposal of their products, including printed circuit evaluation boards. This program is designed to ensure compliance with the current and forthcoming regional regulations involving producer responsibility for recycling and proper disposal of electronic waste products.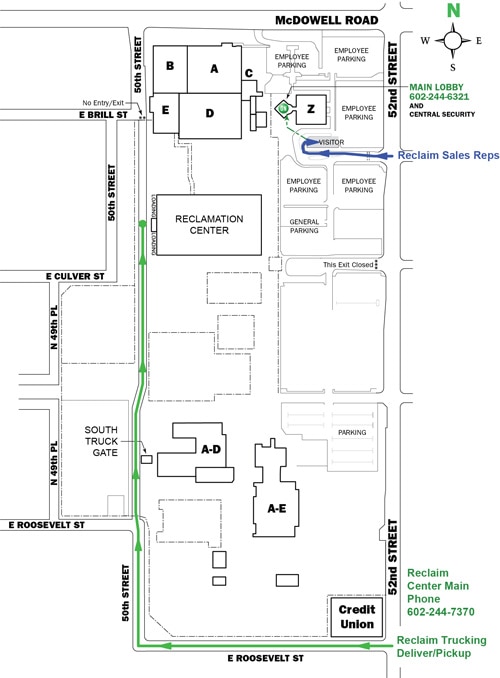 Location / Hours / Contacts
Location:
The Reclaim Center is located on the company's corporate campus at 5005 E. McDowell Rd., Phoenix, Arizona.
Drop-Off / Pick-Up:
See the MAP (on the right) for directions.
Hours: Monday - Friday from 5 a.m. to noon p.m. (After hours call ahead to make arrangments.)
Phone: 602.244.7370
More Info: manufacturing scrap reclaim center
Operation Controls
Very Tight Internal Controls Process (SOX404)

Extensive scrap tracking database
Weights verified at multiple points
Product scrap destruction witnessed
Refiner processing and settlement scrutinized
Independent analyses performed by RC
Ensure product scrap does NOT hit black market
Environmental Controls

Minimize environmental liability
Provide environmental reports
Minimize material sent to land fill
Manufacturing Scrap Processed
Precious Metal Bearing Material

Scrapped devices
Printed circuit boards
Gold targets, wire, and evaporator metallics
Platinum targets and evaporator metallics
Spent bead blast material
Non-Precious Metal Bearing Material

Copper and Alloy 42 lead frames
Copper wire and tubing
Silicon
Aluminum
Targets
Stainless steel
Plastic