ISO 26262 and Requirements
Today, it is no longer possible to see a car as being only an assembly of steel and engine, powered by fuel. In just a few decades, electronic components have grown from nearly 0% to more than 40% of the total cost of a vehicle. The increasing number of functions and electronics systems in the car is driven by safety, performance, and ecological requirements. This trend will continue with the introduction of new technologies, such as electrified and autonomous cars.
What happens if some of these electronic functions start to fail? How can we guarantee the safety of the passengers? One contribution from the automotive industry was the introduction of a functional safety standard, ISO 262626, dedicated to the development of electrical and electronics systems installed in passenger vehicles. ISO 26262 was released in November, 2011, has become an industry standard, and is widely used in the development of automotive safety related integrated circuits. The ISO 26262 standard highlights the fact that every step in the construction of a vehicle can impact safety. Therefore, to reach functional safety, a tight collaboration between the different stakeholders, from car manufacturers to semiconductor providers, is required.
Focus Applications

Advanced Driver Assistance System
Battery Management
Braking System
Engine Control
Front Lighting
Ignition
Pedal Sensor
Power Supplies
Rear Lighting
Steer-by-Wire
Transmission
Expertise and Implementation of ISO 26262 at ON Semiconductor
Functional safety is not a new concept and has been introduced for many years in others industries, for example aerospace and industrial. However, in the automotive market, continuous pressure to reduce costs, combined with increasing demands on performance and safety, represents a significant challenge. ON Semiconductor, with its long history as a leading provider of automotive products, understands this challenge and uses its vast knowledge of the automotive market, and ISO 26262, to provide cost effective solutions to customers, without compromising on safety.
ON Semiconductor sees the ISO 26262 standard as an effective tool that enables the company to offer optimal architectures and solutions by identifying safety requirements assigned to the integrated circuit and focusing on the important failure modes. Since the deployment of ISO 26262, ON Semiconductor has developed and introduced ASICs and standard products with safety requirements ranging from ASIL A to ASIL D.
ON Semiconductor, with four international experts and two national delegates, is an active member of the ISO 26262 working group. As a member, ON Semiconductor is collaborating with other members on the second edition of the standard and has contributed to the elaboration of the ISO/PAS 19451 document, that provides guidelines on the application of ISO 26262 to the semiconductor suppliers. In parallel, ON Semiconductor has integrated the requirements of ISO 26262 into its Quality Management System, and a dedicated organization has been put in place to manage functional safety within the company.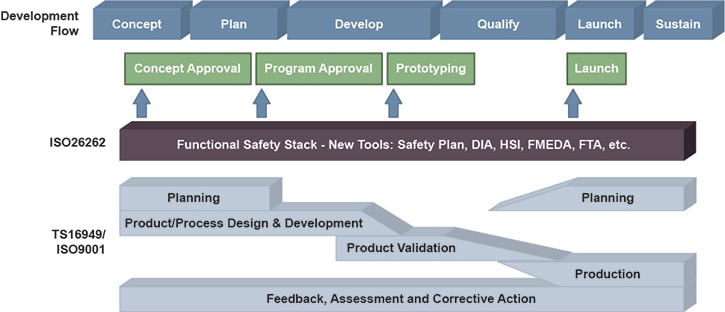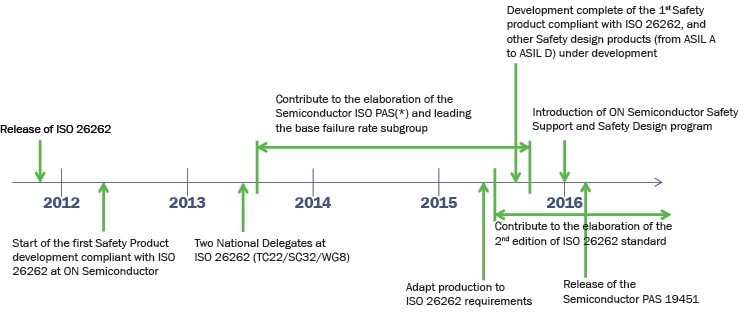 Support and Guidance for Customers in the Development of Safety Products

The customer's final goal is to develop electronic systems that are safe once installed in a car. Failures of safety functions should be prevented or controlled in order to avoid possible hazards. Reaching such a goal is not an easy task and requires involvement from every stakeholder. ON Semiconductor supports and guides its customers in the development of safer applications by providing necessary work products required in the integration of a hardware component into the system.
ON Semiconductor supports customers in the prevention of systematic failures by the implementation of a strong development flow compliant with ISO 26262 on top of the existing Quality Management System (ISO/TS 16949). Detailed reviews are performed at various stages of development to ensure that systematic sources of failures are identified and avoided.
ON Semiconductor also supports customers in the detection and control of random hardware failures by using dedicated safety analysis. During the development of the integrated circuit, focus is put on the safety related failure modes through the use of FMEDA or FTA tools, for example. Such tools also help to estimate the failure rate of the device with respect to a safety requirement and to meet the allocated target.
'Safety Design' and 'Safety Support' Products
To further support customers in the development of safety systems, ON Semiconductor has classified products into two categories:
Safety Design products are fully developed in compliance with the ISO 26262 standard, and are immediately ready to be used in a safety application.


Safety Support products have a limited number of work products available in order to support its integration into a safety application. The list of work products includes:
List of assumed Hardware Safety requirements and Safety mechanisms
A Hardware and Software Interface document
A base failure rate value for the Hardware component
An FMEDA for each Safety requirement
For both Safety Design and Safety Support products, a safety manual will be available. All these safety documents enable customers to easily integrate safety products into their systems.