Recent Press Releases

Next Generation Product Line from Icotera Delivering Wi-Fi 6 is Powered by Chipsets from ON Semiconductor's Quantenna Connectivity Solutions Division
Icotera, a global leader in fiber-to-the-home (FTTH) customer premise equipment solutions, has announced that Quantenna Connectivity Solutions, a division of ON Semiconductor (Nasdaq: ON), has been selected as the chipset provider for its upcoming Wi-Fi 6 product line of FTTH routers, gateways and access points.

High-Speed Image Sensor From ON Semiconductor Enables Intelligent Vision Systems for Viewing and Artificial Intelligence




The ARX3A0 digital image sensor with 0.3 Mega-Pixel (MP) resolution in a 1:1 aspect ratio. With up to 360 frames per second (fps) capture rate it can perform like a global shutter in many conditions but with the size, performance and responsivity benefits of being a Back-Side Illuminated (BSI) rolling shutter sensor. With its small size, square format and high frame rate, ARX3A0 is particularly suitable for emerging Machine Vision, Artificial Intelligence and AR/VR applications, as well as small supplemental security cameras.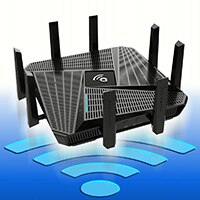 ON Semiconductor's Quantenna Connectivity Solutions Division Introduces Wi-Fi 6 Spartan Router Reference Design to Meet Most Demanding Wireless Network Performance and Coverage Requirements

More Press Releases…
If you are a member of the press and are interested in receiving ON Semiconductor press releases via email, please complete the form below.
Language Preference:
English Japanese Chinese

ON Semiconductor In The News
More Articles…

Events & Webcasts
Seminars & Workshops
Upcoming Tradeshows
Webinars & Webcasts

Recent Blog Posts

ON Semiconductor Technology Seminars: Deep Dive into Maintenance-Free Sensors, Connected Lighting and more by ON Semiconductor – 2019-09-12

Exploring the ever-evolving segments of smart homes and buildings, ON Semiconductor will host a global series of technology seminars in key cities for IoT. Sessions include a wide range of topics: Vision IoT, low power and battery-free sensor devices, connected lighting, robot assistants, audio edge AI, and node-to-cloud platforms. In addition to exploring specific areas of smart homes and buildings, the sessions will address common challenges across this growing area such as enhancing security, reducing energy consumption and improving occupant comfort.

Our leading IoT experts will provide hands-on demonstrations alongside technically-rich and practical presentations that combine new, advanced design concepts, tutorial review of basic design principles, and real-world application examples. Will you be joining us? Register for a seminar near you today!

Intelligent Imaging for Machine Vision and IoT Applications by Guy Nicholson – 2019-09-11

Today's image sensors are required to do much more than process images. From robotics to machine vision, Artificial Intelligence (AI) has now become an integral piece of vision-based systems within the Internet of Things (IoT).

With devices like the ON Semiconductor ARX3A0, the precise image data it produces can enable advanced systems, including the use of AI to detect features, objects and pattern recognition for industrial automation and navigation. Want to know more? Keep reading on our blog!

More Blog Posts…

Media Contacts