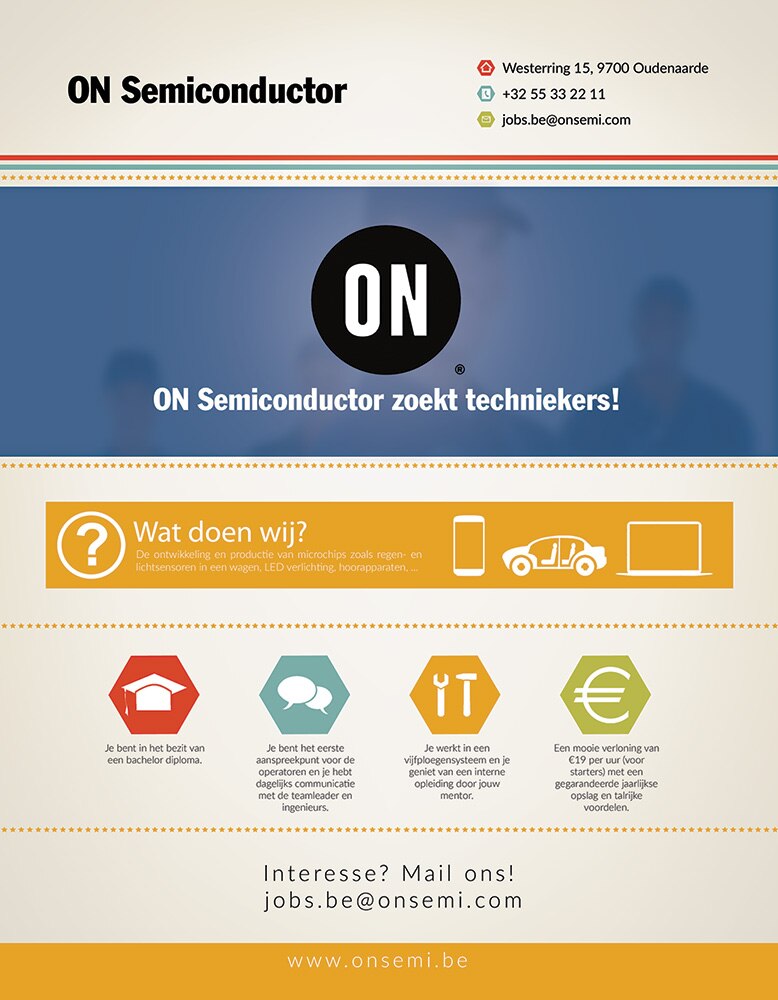 De Job
Het takenpakket van de technieker bestaat uit het preventief en correctief onderhouden van het machinepark in de cleanroom. Om deze job te kunnen doen, dragen zij een cleanroompak. De techniekers zijn het eerste aanspreekpunt voor de operatoren als er iets fout loopt in de Fab. Naast het preventieve onderhoud, zorgen zij ervoor dat defecte machines snel terug up and running zijn. Daarnaast werken ze mee aan technische projecten en staan ze in voor het implementeren van technische aanpassingen. De techniekers hebben dagelijkse contacten met de teamleaders en ingenieurs voor wat betreft onderhoud. Omdat de cleanroom zo'n strikte omgeving is, worden de toestellen 'through the wall' geïnstalleerd. Op die manier ontstaan er 'service bays' en 'operator bays'. Daardoor moeten de technische interventies niet in de cleanroom zelf plaatsvinden. In de 'service bay', een minder strenge cleanroomomgeving, zijn de meest verontreinigde delen van de toestellen terug te vinden. Die ruimte bevat dan ook de pompen, motoren en leidingen die noodzakelijk zijn voor de werking van het toestel. Indien er een onderhoud of reparatie aan een toestel moet uitgevoerd worden, gebeurt dit in de service bay, zodat de wafers en de andere toestellen die zich in de operator bay bevinden, daar geen hinder van ondervinden.
Het Profiel
Een bachelor diploma in een technische richting is een minimum vereiste voor onze techniekers. Net zoals de operatoren, werken de techniekers in een vijf ploegenstelsel. Dit vraagt de nodige flexibiliteit. Daarnaast verwachten we dat zij over voldoende communicatieve vaardigheden beschikken om vlot te kunnen samenwerken met operatoren en ingenieurs. Onze techniekers moeten kunnen omgaan met strikte regels en procedures, maar krijgen daarnaast voldoende ruimte voor eigen inbreng en om verbeteringsvoorstellen in te dienen.
Het Aanbod
Techniekers die slagen voor de aanwervingsproeven krijgen onmiddellijk een contract van onbepaalde duur. Het salaris wordt bepaald volgens een matrix, waarbij het loon elk jaar stijgt. Bovenop het basis salaris, komt een gemiddelde ploegenpremie van ongeveer 40%. Daarnaast biedt ON Semiconductor een pakket extralegale voordelen zoals maaltijd- en ecocheques, , hospitalisatie- en groepsverzekering, internet- en GSM-abonnement, en supplementaire vakantiedagen.