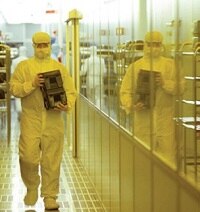 De Job
Als operator werk je in de cleanroom, dit is een stofvrije omgeving met een constante temperatuur. Om de cleanroom te betreden, die we kortweg fab noemen moet je jezelf volledig inpakken in een cleanroompak. In de fab bevinden zich de toestellen die de operatoren bedienen.
Bij opstart na de introductie ga je naar Uw ploeg waar een mentor instaat voor alle training. Bedoeling is dat je een 18 tal toestellen leert bedienden waarvoor je verantwoordelijk bent. Je zal dus ook de organisatie en planning voor Uw rekening nemen. Je krijgt dus de verantwoordelijkheid om binnen Uw werkgebied alles in goede banen te leiden.
Het productiemateriaal zijn wafers waarop de chips (IC) gebouwd worden. Een bundeling van een aantal wafers noemen we een lot. Als operator zal jij de loten verhandelen en opstarten op de verschillende toestellen. Het matariaal heeft een hoge waarde en moet dus met de nodige aandacht en voorzichtheid verhandeld worden.
Binnen de ploeg werk je samen met Uw collega's in een I-team (zelfsturend team), je zal dus alles met U collega's afspreken en regelen (pauzes, verlof).
Het Profiel
Om aan de slag te kunnen als operator bij ON Semiconductor, is het bezitten van een diploma secundair onderwijs een minimum vereiste. Onze operatoren hebben echter verschillende achtergronden en sommigen volgden ook hogere studies. De Fab draait volcontinu, dit wil zeggen dat alle operatoren in een vijf ploegenstelsel werken. Dit vraagt de nodige flexibiliteit van onze medewerkers. Gezien de grote mate van zelfstandigheid in deze job, verwachten we dat een operator over een groot organisatie- en verantwoordelijkheidsgevoel beschikt. De productieruimte is een omgeving met strikte regels, maar er is ruimte voor eigen inbreng.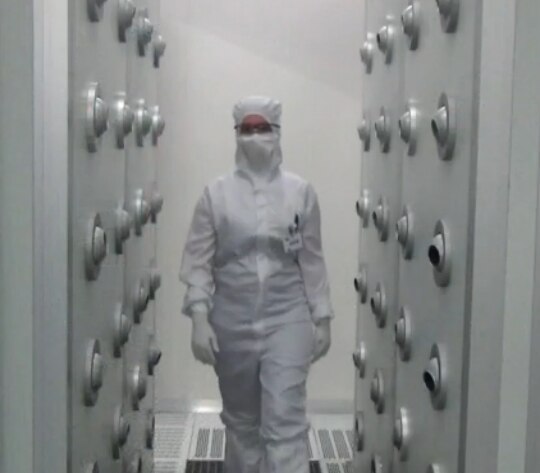 Het Aanbod
Voor alle startende operatoren voorzien we de eerste twee weken een interne opleiding. Daarna wordt er een persoonlijke mentor toegewezen die instaat voor on-the-job training. Omwille van het volcontinu systeem, werken de operatoren gemiddeld 21 dagen op 5 weken en werken ze 32 uren per week. Er is geen collectieve sluiting, dus verlof is vrij te regelen in overleg met de collega's. Voor, na of tijdens de shift, kan men terecht in het bedrijfsrestaurant of in de restroom. Het salaris wordt bepaald volgens een matrix, waarbij het loon elk jaar stijgt. Bovenop het basis salaris, komt een gemiddelde ploegenpremie van ongeveer 40%. Daarnaast biedt ON Semiconductor een pakket extralegale voordelen zoals maaltijd- en ecocheques, , hospitalisatie- en groepsverzekering, internet- en GSM-abonnement en supplementaire vakantiedagen.