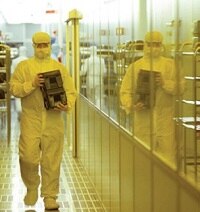 De Job
Het takenpakket van de technieker bestaat uit het preventief en correctief onderhouden van het machinepark in de cleanroom. Om deze job te kunnen doen, dragen zij een cleanroompak. De techniekers zijn het eerste aanspreekpunt voor de operatoren als er iets fout loopt in de Fab. Naast het preventieve onderhoud, zorgen zij ervoor dat defecte machines snel terug up and running zijn. Daarnaast werken ze mee aan technische projecten en staan ze in voor het implementeren van technische aanpassingen. De techniekers hebben dagelijkse contacten met de teamleaders en ingenieurs voor wat betreft onderhoud. Omdat de cleanroom zo'n strikte omgeving is, worden de toestellen 'through the wall' geïnstalleerd. Op die manier ontstaan er 'service bays' en 'operator bays'. Daardoor moeten de technische interventies niet in de cleanroom zelf plaatsvinden. In de 'service bay', een minder strenge cleanroomomgeving, zijn de meest verontreinigde delen van de toestellen terug te vinden. Die ruimte bevat dan ook de pompen, motoren en leidingen die noodzakelijk zijn voor de werking van het toestel. Indien er een onderhoud of reparatie aan een toestel moet uitgevoerd worden, gebeurt dit in de service bay, zodat de wafers en de andere toestellen die zich in de operator bay bevinden, daar geen hinder van ondervinden.
Het Profiel
Om aan de slag te kunnen als operator bij ON Semiconductor, is het bezitten van een diploma secundair onderwijs een minimum vereiste. Onze operatoren hebben echter verschillende achtergronden en sommigen volgden ook hogere studies. De Fab draait volcontinu, dit wil zeggen dat alle operatoren in een vijf ploegenstelsel werken. Dit vraagt de nodige flexibiliteit van onze medewerkers. Gezien de grote mate van zelfstandigheid in deze job, verwachten we dat een operator over een groot organisatie- en verantwoordelijkheidsgevoel beschikt. De productieruimte is een omgeving met strikte regels, maar er is ruimte voor eigen inbreng.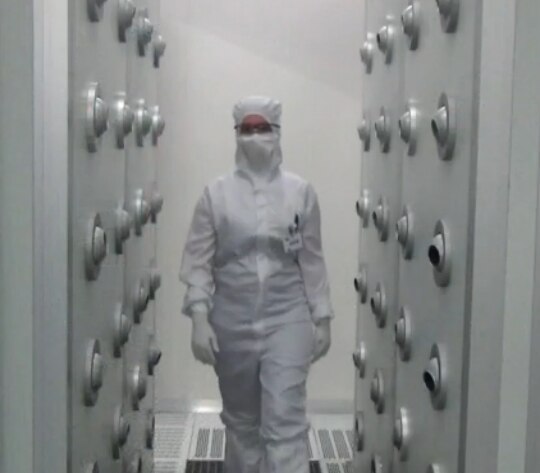 Het Aanbod
Voor alle startende operatoren voorzien we de eerste twee weken een interne opleiding. Daarna wordt er een persoonlijke mentor toegewezen die instaat voor on-the-job training. Omwille van het volcontinu systeem, werken de operatoren gemiddeld 21 dagen op 5 weken en werken ze 32 uren per week. Er is geen collectieve sluiting, dus verlof is vrij te regelen in overleg met de collega's. Voor, na of tijdens de shift, kan men terecht in het bedrijfsrestaurant of in de restroom. Het salaris wordt bepaald volgens een matrix, waarbij het loon elk jaar stijgt. Bovenop het basis salaris, komt een gemiddelde ploegenpremie van ongeveer 40%. Daarnaast biedt ON Semiconductor een pakket extralegale voordelen zoals maaltijd- en ecocheques, , hospitalisatie- en groepsverzekering, internet- en GSM-abonnement en supplementaire vakantiedagen.