About the ON Semiconductor Culture
We are a company that is dedicated to becoming the premier supplier of performance power solutions worldwide. We value quality, efficiency and superior customer service.
Commitment to Diversity
Around the world ON Semiconductor's employees reflect the diverse richness of many cultures. Our global community of employees is based in 16 locations around the world with major facilities in the U.S., Belgium, Canada, France, Ireland, Slovak Republic, Czech Republic, Japan, China, Malaysia and the Philippines.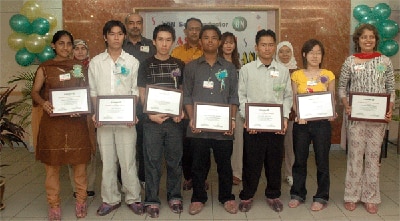 As a company we celebrate differences and promote an inclusive environment by valuing the contributions of all employees. Our knowledge of diversity goes beyond race, ethnicity and gender. Diversity is about understanding and embracing the unique differences, talents and perspectives of employees, customers and suppliers. We look to promote an inclusive environment and support the diversity of thinking that results from the differences in experiences, knowledge, culture, customs and background of all employees. Diversity of thinking will help us continue to encourage the creativity and innovation necessary for ON Semiconductor to maintain a competitive advantage in the global marketplace.
We believe that a commitment to diversity is a commitment to all employees as well as a winning business strategy. For us diversity means that employees are empowered to make decisions, co-workers treat each other with dignity and respect, and all people we come into contact with are valued. At ON Semiconductor our diversity is our strength.
We believe that our company's vision, values and culture afford opportunities for everyone to make a difference in building a successful global business. We are constantly striving towards a more diverse workplace which benefits
ON Semiconductor and enables us to more successfully meet the needs of all our stakeholders--customers, suppliers, employees and shareholders worldwide.